"I am a great believer in luck, and I find the harder I work, the more I have of it." Stephen Leacock
Do you like to keep busy? I find the busier I am, the busier I get. It's not unusual for me to have three or four projects going at once — thank goodness for coloured file folders! I think a diversity of subjects and genres keeps me from getting bored. Moving from a Kindergarten non-fiction series to a chapter book to a rhyming picture book to a biography for Grade 5 students is a lot like cross-training in the gym. I'm flexing many different writing muscles, relying on the coaching of my personal trainers (my editors), and sweating a lot. Some projects are easy, like sit-ups, and others are excruciatingly difficult, like chin-ups.
Writing is just like exercise: the more you do it, the more you can do it. And for me, the tighter the deadline, the more efficient I get. So am I busy? Yup — and loving every minute of it!
Readers of Ospreys in Danger and Salamander Rescue will be happy to hear that Cricket and her friends have a new adventure! Bats in Trouble has flown out into the world and can be purchased online and at your favourite book store.  Check out my blog for tons of interesting facts about bats and wind energy that I couldn't fit into the book!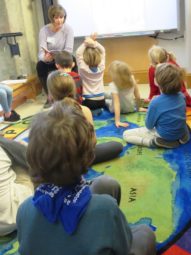 My mom is waiting for me to write the next 'great Canadian novel', which is weird because I'm sure she knows I write for kids. But I'm also pretty sure she doesn't know why. If she had traveled to Victoria with me last week, she would have seen my inspiration – the enthusiastic Grade one and two students at South Park Family School were as excited to talk to me as I was to meet them!
The teachers and librarian had spent a couple of weeks getting ready for my visit, which helped me connect with the students easily. One class was about halfway through Ospreys in Danger and the other class had just started reading Bats in Trouble in preparation for a bat study. We had lots to talk about!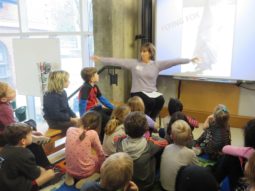 Some students had questions about characters
Read More
Upcoming Events
Saturday, November 4 Love YYC Day
Come see me in the Toy Shoppe at Heritage Park, 11:30 - 2:30, where I'll be signing books and doing bat origami!
October 19, 2017 Book Launch for Bats in Trouble
Join me at Owl's Nest Books at 7:00pm for cupcakes and fun! 815A 49th Avenue SW Calgary
October 29, 2017 Celebrate Bat Week
I'll be signing books and talking about bats at Chapters 130th Avenue, Calgary, from 11:00am to 4:00pm Come say hello!
November 18, 2017 Curious about Bats?
Come see me at Chapters Signal Hill where I will be signing Bats in Trouble 11:00am to 4:00pm 5570 Signal Hill Centre SW, Calgary