"I am a great believer in luck, and I find the harder I work, the more I have of it." Stephen Leacock
Do you like to keep busy? I find the busier I am, the busier I get. It's not unusual for me to have three or four projects going at once — thank goodness for coloured file folders! I think a diversity of subjects and genres keeps me from getting bored. Moving from a Kindergarten non-fiction series to a chapter book to a rhyming picture book to a biography for Grade 5 students is a lot like cross-training in the gym. I'm flexing many different writing muscles, relying on the coaching of my personal trainers (my editors), and sweating a lot. Some projects are easy, like sit-ups, and others are excruciatingly difficult, like chin-ups.
Writing is just like exercise: the more you do it, the more you can do it. And for me, the tighter the deadline, the more efficient I get. So am I busy? Yup — and loving every minute of it!
Readers of Ospreys in Danger will be happy to hear that Cricket and her friends have a new adventure! Salamander Rescue will be launched on May 10 at Owl's Nest Books and everyone is welcome. Check here for details. And if you would like to win a copy of Salamander Rescue, enter my Goodreads Giveaway May 1 – 15. I have ten copies to give away to lucky readers!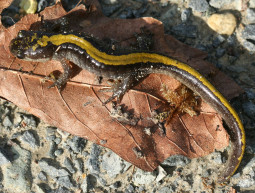 Long-toed salamanders are pretty distinctive. The vivid yellow stripe is a sure giveaway, as is the long toe on each back foot. But how did researchers in Waterton distinguish one long-toed salamander from the next? How could they possibly tell how many salamanders crossed the road without counting some twice?
For years, researchers commonly clipped toes to mark the individuals they had counted – OUCH! Then they moved to marking the salamanders with a dye. In one study in Maryland, researchers injected red-backed salamanders with a bio-compatible, fluorescent elastomer pigment that could be checked using a portable ultra-violet light. But now computers and digital photography may save the salamanders from all these snippers and needles.

An undergraduate student at North Carolina State University is using photo identification to 'mark' salamanders. She is creating a digital record of Eastern Tiger Salamanders in her study by photographing their natural patterns of spots, which are as unique as your fingerprints, then turning to a computer for help.
Read More
Upcoming Events
April 16, 2016 Foothills Young Authors' Conference
Meeting Grade 4 & 5 writers at Ecole Highwood High School in High River, Alberta
May 10, 2016 Book Birthday
Join me for the launch of Salamander Rescue at Owl's Nest Books at 7:00pm (815 - 49th Avenue SW, Calgary) It will be a party -- and a party means cupcakes! Yay!

Saturday, June 11, 2016 Book Signing
Join me at Indigo Signal Hill in Calgary, 12:00 - 4:00 pm, where I'll personalize a copy of my new book, Salamander Rescue, just for you!
Saturday, June 18, 2016 Book Signing
Come see me at Shawnessy Chapters in Calgary, 12:00 - 4:00pm, and pick up a signed copy of my new book, Salamander Rescue.