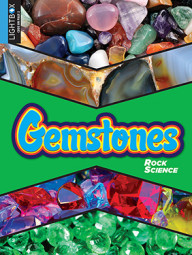 Diamonds were first discovered in India, about 2,400 years ago. the weight of a gemstone is measured in carats. Learn more in Gemstones, one of the titles in the Rock Science series.
This series introduces readers to the fundamentals of geology. Each title uses exciting visuals and engaging content to examine the uses, composition, distribution, and features of rocks.
This book includes fully integrated media features, including embedded videos, slideshows, child-safe weblinks, contextual key word definitions, and the entire body of the text read aloud.
978-1-5105-0377-9
Publisher: Smartbook Media Inc.
Publication Date: 2016
Pages: 24
Age Range: 8-12