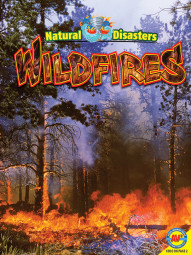 Wildfires are one of the most preventable natural disasters in the world. Though wildfires can happen naturally, people are the cause of most wildfires. Learn more about this fascinating phenomenon in Wildfires, a Natural Disasters book.
From floods to wildfires and earthquakes to hurricanes, Natural Disasters introduces readers to some of the most extreme naturally occurring events on Earth. Readers will explore the causes, locations, history, and all-time records of the world's most serious natural disasters. Each title in this series pairs compelling facts with stunning photographs to engage young readers and inspire a love of reading.
This book is enhanced with video, audio, weblinks, slide shows, activities, hands-on experiments, and much more.
978-1-4896-1222-9
Publisher: AV2 by Weigl
Publication Date: 2015
Pages: 32
Age Range: 8 - 12