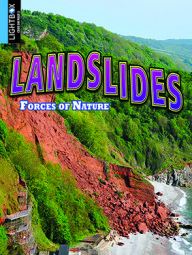 Landslides can move at speeds of almost 200 miles (320 kilometres) per hour. The eruption of Mount St. Helens caused the largest landslide in the world, covering 24 square miles (62 square kilometres). Learn more in Landslides, one of the titles in the Forces of Nature series.
This series introduces readers to some of the extreme naturally occurring events on Earth. Readers will explore the causes, locations, history, and all-time records of the world's most serious natural disasters.
This book includes fully integrated media features, including embedded videos, slideshows, child-safe weblinks, contextual key word definitions, and the entire body of the text read aloud.
978-1-5105-0082-2
Publisher: Smartbook Media Inc.
Publication Date: 2016
Pages: 32
Age Range: 8-12