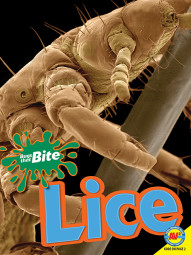 Did you know that there are more than 3,000 species of lice? There are two main groups: sucking lice and biting lice. Lice are found everywhere in the world, including Antarctica. Discover more fascinating facts in Lice, a Bugs that Bite book.
The Bugs that Bite series lets readers discover the fascinating facts behind some of the world's insects that bite people. These bugs live in many of the same environments that people inhabit, and they are important to their ecosystems. The books explore the characteristics of these bugs, their habitats, diet, and how and why they bite. Detailed diagrams and interesting facts are sure to engage even the most reluctant readers.
This book is embedded with weblinks, audio and video clips, activities, and other features, such as a slide show, matching word activity, and quiz.
978-1-4896-0770-6
Publisher: AV2 by Weigl
Publication Date: 2015
Pages: 24
Age Range: 8 - 10