A few weeks ago I went on a safari. Not a giraffe, lion, elephant safari – a grizzly bear safari in the Khutzeymateen Grizzly Sanctuary, one of the few places in the world where bears can live and die of old age.
Getting there was half the fun. On the breakfast flight to Prince Rupert, BC, we were joined by intrepid adventurers Brian Keating, Les Stegenga, and Laval St. Germaine, our pilot. You might have heard of St. Germaine in 2016, when he rowed solo across the Atlantic from Halifax to France in 53 days, raising money for cancer research. These three guys have their foot on the gas pedal of life all the time.
Landing at YPR (which is located on Digby Island, separated from Prince Rupert by a 20-minute ferry ride), we were shuttled down to the dock and climbed aboard a 72-foot catamaran, the Inside Passage.
We cruised northwards, through Chatham Sound, past islands I've never heard of, like Finlayson, Birnie, Maskelyne, Hogan, and Somerville, and past the ancient Coast Tsimshian village of Lax Kw'alaams.
Brian had us on the lookout for marine birds like the marbled murrelet and pigeon guillemot (which our seat mates informed us they had eaten on a recent trip to Newfoundland!), when a young humpback whale surfaced not far from the ship.
An hour later, we came alongside five orcas, including one very young one.
Once we turned up Khutzeymateen Sound, it wasn't long before we found our first grizzly. Actually, four grizzlies – a mom and three fluffy, curious, independent cubs.
There was no need for bear spray or rifles on this safari, as we never got off the boat. The bears are drawn to the shoreline by the protein-rich sedge grasses and they really weren't that interested in us.
Twice, we caught a distant glimpse of grizzly moms with 2017 cubs – dark, about the size of a football, and shy.
We turned back towards Prince Rupert with a great sense of satisfaction – but that wasn't the end of it! We passed a couple of dozen harbour seals hanging out on a rock.
We toured the port of Prince Rupert.
Finally, as we pulled close to the dock, the ship slowed and the crew tossed fatty morsels into the water. Cue Flight of the Valkyries. Dozens of bald eagles swooped, dove, and feasted mid-flight.
Altogether, we had seen 9 species of mammals, 21 species of birds, and some amazing scenery. About 85% of the guests on Classic Canadian Tours are Canadians exploring our own amazing country. You don't have to go all the way to Africa for an exciting safari.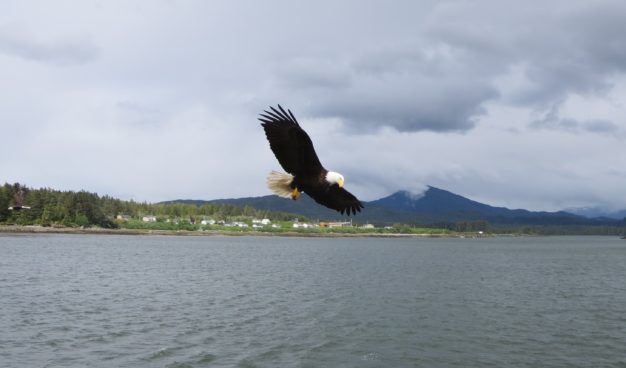 A special thanks to Tessa Armstrong, photographer, hiker, adventurer, for these wonderful photos.